If you're wondering what the jar of jam is all about, then you obviously didn't read our report on Forest's Caribou Cup exit. In it we said: "It's like jam, isn't it? And it's pretty flavourless jam at that. It's very much the same flavourless jam that we were sold at the end of last season. It doesn't matter what ingredients Lamouchi is given, he just boils them down into jam..."
And so to London, where Lamouchi knew he needed a decent start to exorcise the horrors of Stoke, and all he gave us was more jam.
The trouble with jam is that you can't unboil it. If you add new ingredients, the old jam boils darker, more bitter and less wholesome. So against Queens Park Ladies, Grabban looked so boiled out that this latest of his "off days" is threatening to last as long as the rest of his career. Lolley has been boiled into glass. Yates has been baked, somehow, into a horse. And though Worrall and Figs started well enough, eventually they just melted away like they always did in the grand old days of Stoke.
So, although the fresh ingredients of Colback, Freeman, Blackett and Gabriel added some bite in the first half, it was inevitable that they would eventually be absorbed into the vat of bubbling nonsense around them. Colback seemed desperate to get carded. Freeman was taken off, presumably because he was being too creative. Blackett did okay, though his crosses were wasted. Gabriel seemed to be drowning at times. Things just ended up in the same sorry state as they were at the end of last season.
The reason for Lamouchi's bad jam, the sort that congeals at the front and turns to water at the back, is (1) a stubborn refusal to unclamp the team from its defensive approach which leads to a hollow midfield devoid of creative fluency, (2) an apparent refusal or inability to coach forward movement, which leads at best to a chaotic attack and at worst to no attack at all. If the attack is stagnant and the midfield hollow, the defence pays the bill.
There are other things wrong, of course, but they mostly concern pectin production, which is far too difficult for non-experts to understand. Conversely, there were other things right, like Freeman, and Ameobi, and two up front, and fifteen minutes of pressure during which we threatened to breach QPL's defences. But all these things will prove useless if they end up being boiled down into the unstructured mess of Lamouchi's jam.
I forgot to mention da Costa. I can't imagine why.
---
GAME 2 : SEPTEMBER 19 2020
FOREST 0 CAERDYDD 2

Before the Caerdydd match, Lamouchi said, "We need to be more organised, more compact, more aggressive and more solid." Just like overboiled jam. He did not say, "We need to be more creative, more fluent, more cohesive and more incisive." Because these words mean nothing to him. After the match, he said, "We had been working on defending corners and long throw-ins all week." Which is why Forest conceded from a corner and a long throw in. He did not say, "We spent a lot of time integrating the new players into our dynamic attacking systems." Because Forest prefer to get along without them, thank you very much.
It's all very confusing, isn't it? And confused, of course. Whatever the management team are doing to make the team "more solid" clearly isn't working. Indeed, as a third minute corner winged its way into the Forest box, Caerdydd's Kieffer Moore must have been slightly bemused to see defenders collapsing around him like wet cardboard boxes as he rose to thump the ball into the back of the net.
Of course, going behind so early gave Forest plenty of time to fight back. Sadly, they had little to fight back with. A midfield trained in the art of being bricks could provide little impetus. Lolley's shins were splintered, apparently, so once more he contributed little. Freeman and Sameobi did their best, but even when Grabban was presented with another sitter, he blazed over. With the Old Reliables, Grabban and Lolley, misfiring badly, and Yates and Colback unwilling to drive forward, Forest sank deeper onto their own defence and eventually did their cardboard box routine to allow Moore to bag his brace.
Bag his brace. What a stupid expression. It's from game shooting, you know. "I popped up to Dom Cumming's father's estate, where I bagged a brace," is a commonly heard boast in the Westminster bubble these days.
Anyway, Forest were much better in the second half. I don't know whether who told whom to do whatever, or whoever got pissed off and ended up doing what whosoever wanted, but they were definitely better. Strange, embryonic partnerships formed, the precursors to life as we know it in a proper football club. Forest pressed high, cutting off Caerdydd's major routes to goal and releasing midfielders (and sometimes even defenders) to do their own thing. Lyle Taylor grew quickly into an abrasively threatening hero. Shots at goal rained in. With a bit of luck, or a bit of composure, Forest could have had three goals in the second half. And (with a bit of luck) they conceded none.
I didn't actually complete the quotation from Lamouchi in that first paragraph. He said, "We need to be more organised, more compact, more aggressive and more solid, like we were last season." What he doesn't seem to have come to terms with is that Cash has gone, Lolley is injured and Grabban is fading. These three provided the threat which made Forest's counterattacking football work. But now it doesn't work, and Lamouchi has to find another way to get out of the jam he's got himself into (jam, gettit?).
That second half may have given him some clues. We'll see whether he found them or not on Friday.
---
GAME 3 : SEPTEMBER 25 2020
UDDERSFEEL 1 FOREST 0

Putting out virtually a whole new team was either a very clever Lamouchi ploy or a near-suicidal Lamouchi gamble.
On the clever side, if his shiny new Forest lost, he could always save his job by saying, or allowing his friends to say, that the players would need more time to gel.
On the gamble side, if his shiny new Forest lost to Uddersfeel, he was probably a goner.
So which one was it? To be frank, the question is beside the point, like asking whether Boris Johnson wipes his arse with his left hand or his right. The point is, as we said at the very beginning of the season, that no matter what ingredients you give to Lamouchi, he will somehow manage to boil them down into jam, and jam doesn't win many football matches.
You could see the boiling-down process working in front of your eyes. There was of course an initial vibrancy - Christie looked an exciting replacement for Cash, McKenna was assured and commanding, Mebbe So was cultured and comfortable on the ball, Blackett didn't look comfortable at left back but would undoubtedly be replaced by Ioannou in the next game, Arter was busy and effective, Ameobi looked dangerous in that slightly out-of-control way of his. Uddersfeel captain Hogg should have seen red for attempting to break Arter's leg. Ameobi's curling effort was well saved by Uddersfeel goalkeeper Hamer. Mebbe So almost scored on his debut. Things were going all right.
Except, of course, that they weren't. The boiling-down process was beginning to take effect. Lamouchi's defensive mindset was beginning to pull Arter back into the belly of the midfield, where Sow and Colback were already duplicating each other's job. Arter was supposed to be the box to box man, the link between midfield and attack, but he didn't seem to be doing much of that. Freeman was stuck out wide having virtually no impact. Taylor was stuck up top in frustrated isolation, just like Grabban used to be. If the center backs roamed forward, they were either told to get back in defence, or pass the ball backwards to a defensive midfielder. Amazingly, Lamouchi was somehow turning all this shiny new talent into the same old jam.
After half time, it got very bad. Uddersfeel's Campbell scored his 3rd goal in twelve months, the kind of strike you can only do with your eyes closed, and Forest went into full struggle mode.
Sow was taken off for everyone's safety to be replaced by Mighten, who had the impact of a moth. Grabban replaced Taylor and almost immediately put a chance over the bar. Freeman, who should have been moved inside to do some play-making, was replaced by an unfit Lolley.
The low point was reached when Diakhaby of all people almost scored twice - one shot being cleared by Colback, and a one-on-one being blocked by Samba.
And that's that - the match ended in a confusing mess of jam. It is so obvious that Forest lack a creator, a playmaker - Silva could do it but he's off, Carvalho could do it but Lamouchi won't let him, Freeman might do it but Lamouchi sees him as a winger, Arter might do it but ... well, I'm not sure he's that kind of player. And it's pretty obvious that Forest don't practise attacking moves but simply rely on individual cleverness to get their goals.
Blah blah blah - too much moaning. Not that any of this stuff matters. I can't even see this season's fixtures being completed, to be honest. Clubs are already starting to postpone matches. The whole economy's collapsing. The bin men are collecting bodies from the houses with crosses on the doors. The country is being run by a buffoon with poo on his hand. The right hand, in case you were wondering.
---
GAME 4 : OCTOBER 3 2020
FOREST 1 BRISTOLS 2

AT PIE MANSIONS...

What's going on, Vetch?

I'm sorry, sir, but I stumbled over what appears to be a cattle prod in the hall.

Mind not on the job, eh Vetch?

In a manner of speaking, sir. I recently had the most disturbing experience.

Not as disturbing as waking up in the boot of your own car, I'll wager.

I beg your pardon, sir?

Forget it, Vetch. Tell me about your disturbing experience.

Very well, sir. I was returning from the village post office where I had deposited several packages for collection, when I passed a band of common fellows camped in the south meadow. Three or four of the common fellows, grubby faced and wild of eye, were playing a skipping game on the lane, and as I passed I heard the words of the song they were singing. It went like this:

Sabri Lamouchi
Practised Tuesdy
Gave up Wensdy
Cried on Thursdy
Prayed all Fridy
Lost on Sat'dy
Packed on Sundy
Buggered off Mundy
Poor old Sabri Lamouchi

My God, Vetch, what can it all mean?

I presume these common fellows are privy to some dramatic news, or are from Derby. Either way, it's disturbing.

And yet, sadly, not surprising, eh Vetch? Mister Lamouchi is perilously close to being given the heave-ho. In fact, were it not for that spectacular goal from young Freeman, he would probably be on his way already. Mister Lamouchi. My God, he sounds like a ventriloquist's dummy. Come in and meet Mister Lamouchi. No, don't turn on the light.

Rather oddly put, if you don't mind me saying so sir, but I do think he is hanging on with some threadbare excuses. That performance against the Bristols did show some attacking improvement, but many people remain convinced that he has no idea how to coach forward movement. As far as he is concerned, attacking is something to do with aggression, shooting a lot, and the odd piece of individual brilliance. Forest's improved performance was based on these things, plus the Bristols easing off when comfortably ahead. Nowhere did I see the creative teamwork required to break open a resolute defence. People say the teamwork will come, given time, but I would suggest that if it does, it will be through the players' efforts, not the manager's.

And yet, Vetch, Forest might have won that match had the Bristols not had that Bentley fellow in goal playing like he was the Son of God. And there were some promising performances, after all. Ariata played reasonably well. Christie attacked well from full back. Freeman was something of a star. Mighten was not the moth I always thought he was. But the one who surprised me was that left wing back Yanu or whatever his blithering name is. Knows how to cross, that fellow. Perhaps these green shoots will flourish over the international break, eh?

There would be green shoots under any manager, sir. I doubt they will flourish under a manager who seems preoccupied only with mistakes, who says his players should "respect the plan" when the plan was designed for another team. One half decent performance will do little to stop a decline which began weeks before the season was paused. People said then that Forest looked in need of a break, but they were worse when they came back. Now it looks as if Lamouchi has another break to resurrect our fortunes, and I fear the worst.

Oh come now, Vetch, stop being a wet william. There are far worse things out there than a dysfunctional football team. The end of the world springs to mind.

Oh surely not, sir.

Oh yes, Vetch. The signs are all there. There will come a time when covid and climate change will have reduced humanity to scattered tribes being pursued by cows.

But not in the near future, sir.

Sooner than you think, Vetch. The cows are attacking already. Ask Doctor Portfolio. "If humanity survives to the end of this football season, then call me a thoroughgoing quack," he said. Good man, Doctor Portfolio. Sold me that cattle prod you fell over.
---
GAME 5 : OCTOBER 17 2020
BLACKBUm 0 FOREST 1
WE WON!
A friend said to me, "You know that feeling you get before a match..?" whereupon I said, "Let me stop you there, friend. Only a bigot or a simpleton entertains one feeling at a time. The healthy human brain is capable of juggling several, often conflicting, emotions in any given situation. That is why life can often seem confusing." My logic left him speechless, of course.

Take the game against Blackbum. How did you feel as the game approached? I'll tell you how you felt. You were slightly giddy at the prospect of Mister Christopher Hughton forging a new era at your beloved club by means of some kind of magic whose nature you didn't understand, but alongside this was a sheer dread that Forest were so cursed that not even Mister Christopher Hughton could perform a miracle against the in-form, free-scoring Blackbum, especially as the team he had selected looked disturbingly familiar, and Grabban was, disturbingly, captain. Added to these feelings was the excitement of signing Anthony Knockout, slightly tainted by the disappointment that the loan lasted only a few months and the flickering memory of calling him a cheating bugger when he played for somebody else. Then, of course, the Grosicki situation added a final hefty blob of confusion to the mix.

If you had mixed feelings before the match, the first half would tie you in emotional knots. There was this terrible underlying suspicion that nothing had changed. Forest had not been transformed into the fluent attacking powerhouse of your dreams. These traitorous thoughts had to be suppressed, somehow, starting with the obvious common sense dictated that Mister Christopher Hughton was not going to change things overnight. And if you looked hard enough, there were some subtle differences. Forest seemed to be trying to play a higher line. Colback seemed to be in control in deep midfield. The defence, especially McKenna, looked strong. The team seemed to have a good, solid shape, even though you've always been a bit hazy about the concept of shape. An eleven sided figure is called a hendecagon, apparently.

But the nagging doubts were still there, weren't they? Perhaps Forest looked sharper because they had simply had chance to train harder or, like Joe Lolley, get over their injuries. Perhaps the defence looked more secure because Blackbum, surprisingly, were rubbish. The only threat they produced was a shot from Brereton which barely reached Brice Samba.

And that lack of potency up top was still there, shuffling around ineffectually in the shape of Captain Grabban. You sensed there would be no more 20 goal seasons for him, at the same time wishing he would wake up and earn his place.

Well, things did change in the second half. After five minutes, Grabban floated across a delightful ball which Yates headbashed over like a wild horse. You were torn between thinking "Hard luck, young man" and "Typical Yates, missing a sitter." But at least you could sense a shift in the game, as if Mister Christopher Hughton had reminded them at half time that Blackbum were a bunch of tired old frauds whose early season form was about to desert them. Whatever he did say, Forest's confidence grew. Toby Figgis thumped a free header awkwardly into the ground, the ball being eventually snaffled by Blackbum keeper Kaminski. Sameobi almost got through with a shot speared in at the near post. Lyle Taylor's swerving shot was batted away for a corner. Sameobi's size twelves guided the ball onto Kaminski's crossbar...

And you began to think we would never score. You began to persuade yourself that 0-0 was a decent result. You began to wonder whether Forest might give away some ridiculous 95th minute goal. Somewhere, another Forest disaster might be brewing beneath the miserable Blackbum sky.

And then, in the ninetieth minute, the old fraud Bradley Johnson gave the ball away, Freeman and Yates smuggled the ball out to Lolley, who cut inside as he always used to do in the good old days and unleashed a shot which deflected off the old fraud Bradley Johnson and into the net. The Forest players went ever so slightly mental as, I would imagine, did you.

You must be careful, though. Once the joy has faded, nonsense thoughts will try to muddy your composure. Blackbum were seriously poor, they will whisper, or Lolley's goal was a fluke, or there are still so many problems for Mister Christopher Hughton to fix. To combat these thoughts, simply remember the confidence which surged through the Forest players in the second half of that game, and recognise that, beside hard work and organisation, confidence is the gift that Mister Christopher Hughton can bring. That's the difference.
---
GAME 6 : OCTOBER 20 2020
FOREST 1 ROTHERINGHAM 1

Go on, Pie, read it out to me.

Why, have you gone blind or something?

That's a bit insensitive, isn't it Pie? What if I had gone blind, like suddenly, during the night ... you wouldn't be laughing then, would you?

I'm not laughing.

Like if you'd said "Can't you read?" and I'd said "No I can't. I tried to learn, but my school expelled me for being left handed." You wouldn't be laughing then, would you?

I'm not laughing.

And I'm not blind or illegitimate, so we're squits. Go on, read it out.

Okay then. Nottingham Forest were held to a 1-1 draw at home...

Not that bit, Pie. I know that. Get to the rue bit.

...as they were made to rue plenty of missed chances...

Rue. I love that word, Pie. Rue. Does it say Rotheringham were resolute?

No. Determined.

Poor effort that. Carry on.

Forest started brightly under the floodlights...

The floodlights were on because it was dark, Pie. The match started at 7.45 so it would be dark. Hence the floodlights.

It goes on about Christie and Grabban missing in the first five minutes, the better of the two chances falling to the talismaniac Grabban who lost his footing as he pulled the trigger...

He did what, Pie?

he lost his footing as he pulled the trigger... Presumably he shot himself in the foot.

Perhaps that's why he didn't play well, Pie, what with him having a shot foot and everything.

Anyway, it carries on about Yates mis-hitting a goal, but the linesman had already raised his flag for offside...

Because that's what they do, isn't it Pie? Raise their flag. For offside. Gritty stuff, this.

It says that Forest looked encouraging as they moved the ball about with a refreshing tempo, but can you guess what they lacked in the final third...?

A goal?

No.

Composure?

No.

What then?

The killer instinct.

Ah, the good old killer instinct. That'd be Grabban and his shot foot.

Meanwhile, the newly-promoted Millers also looked steady when in possession...

That's Rotheringham's nickname, Pie. The Millers. Do you know how they came to be called The Millers?

Because of the Hovis mill near the ground. Everybody knows that.

I don't like Hovis, Pie. There is no goodness in it, for it is dry in the mouth.

Rotheringham United took the lead in the opening stages of the second half courtesy of Daniel Barlaser's well-driven spot kick past Samba, who went the wrong way...

Who wrote this rubbish, Pie? Courtesy of, for goodness' sake. "I say, Mister Barlaser, would you do me the courtesy of scoring this penalty as, you see, Mister Samba appears to have gone the wrong way. Good fellow. Now if you could prepare me a large gin and lime, that would be splendid."

Anyway, the report goes on about how Grabban almost levelled immediately but didn't (shot foot), McKenna's header was blocked, Yates headed against the crossbar, Grabban poked, Freeman scuffed, and Lolley's effort cannoned off the post. The conclusion is that it wasn't going to be for Forest.

It wasn't going to be for what?

I'm not sure, but for whatever it was going to be, it wasn't.

That's for true.

The Reds' relentless pressure paid off and the breakthrough finally came in the 79th minute when Lewis Grabban was able to pick out Sammy Ameobi with a square ball on the edge of the six-yard box and he tucked the ball into the bottom corner of the goal.

Huzzah! Lewis Grabban comes good, overcoming a shot foot to put a square ball on a round plate for Sameobi. Well done everybody. Well done Lewis.

As the final whistle fast approached, Lolley's perfectly weighted through ball found Grabban who rounded the keeper and then drilled his effort into the side netting with the whole goal to aim at.

Bloody Grabban. What a Hovis.

Too harsh, Stress. He scored twenty goals last season, shot foot an' all.

No more excuses, Pie, for they have no goodness, being dry in the mouth. If Mister Hughton starts Grabban against the Sheep, he will live to rue it. There will be a lot of rueing going on. But that's not important. What's important is that we get Cocu the sack. That's what's important. Then he'll have the time to go and get his big eye fixed. Is that the end of the report?

No. It says the match finished.

Good God.
---
GAME 7 : OCTOBER 23 2020
FOREST 1 SHEEP 1

AT PIE MANSIONS...

It's not like the good old days, eh Vetch?

Oh most definitely not sir. What would that be, exactly?

This derby match business. Not what it used to be, I say.

I couldn't agree more, sir. Things are rarely as good as they were in the good old days.

Do you remember the good old derbies, eh Vetch? Proper occasions, they were. The rough and tumble, the mutual loathing, the threat of overwhelming violence, the baying of the crowd, the casual incontinence, the 5-2 beatings ... ah, those were the days, Vetch. Now look what we get. Something akin to an unwitnessed brawl in a pub car park. It won't do, Vetch. It won't do.

It was certainly a disappointing spectacle, sir, especially in the first half.

And do you know why, Vetch? Because this Hughton chappie got it wrong again. Picked two strikers who got in each other's way, with no one in midfield who could get it to them. Fundamental error, Vetch. Man should be sacked if you ask me.

That's rather harsh, if you don't mind me saying so, sir. Mister Hughton has only been in charge for three games. He hasn't lost a match yet.

That's no excuse, Vetch. Remember the Macedonian chef we had a few years ago? Tried to poison us with horse pancakes? You can't mess about with blackguards like that. Sacked him on the spot. The Forest players quickly realised that the 4-4-2 experiment was horse pancakes and let their frustration show. Gave away so many free kicks that one of them was bound to cost us, even if it was a fluke.

A fluke, sir?

Yes, Vetch. Remember the good old days, when Buster the shire horse used to haul a cartload of pig muck to the fields?

Before my time, I'm afraid, sir.

And remember the fellow who used to follow the cart with a bucket to pick up the spillage?

Hardly, sir.

That was Martin Waghorn, that was. Great big straw-chewing lump couldn't strike a clean ball if he tried. He'll certainly never score another one like his opener, mark my words.

Of course, sir. You must admit, though, that Mister Hughton got things right in the second half.

Only by accident, Vetch. Grabban's injury allowed Forest to play with one up front and that Knockout fellow to come on and cause havoc. Eventually that chap wearing the tea cosy scored our equaliser, but overall it was a very patchy performance. Three games is more than enough to get these fellows all oiled up and slick as snot, but it's not happening yet.

You may be right, sir, but I think the absence of a crowd - and in this case the absence of a full house - robbed the game of an atmosphere which could have lifted the players to greater efforts.

You may have a point, Vetch. Listening to the Derby coaches bawling obscenities was no substitute for real human contact.

You're right, of course, sir. And I'm sure your doubts about Mister Hughton will disappear in time as he grows familiar with the players and the players grow familiar with each other.

Not too familiar, Vetch. Oskar the Macedonian chef called me "mate" once. Sacked him on the spot. If you give these fellows too much rope they'll take what they need and throw the rest in the bin. I'm keeping an eye on this Hughton fellow, you mark my words.

I shall certainly mark your words, sir. Will there be anything else?

Got any pancakes, have we?
---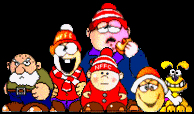 Tomorrow, and tomorrow, and tomorrow, creeps in this petty pace from day to day, to the last syllable of recorded time; and all our yesterdays have lighted fools the way to dusty death. Out, out, brief candle! Life's but a walking shadow, a poor player that struts and frets his hour upon the stage and then is heard no more. It is a tale told by an idiot, full of sound and fury signifying nothing.